Meet Me On Monday 28th Edition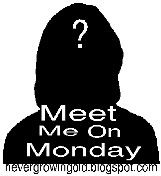 Questions:
1. What are your New Year's Eve plans?
We usually watch the big ball at Times Square in New York (on t.v.). Along with that we have sparkling cider, crackers and meat (pepperoni, salami, etc). However as I age it's getting harder to stay awake for all the hoopla.
2. How tall are you?
I am somewhere between 5'6" and 5'7" depending on whose measuring me :)
3. What is your favorite pudding flavor?
It depends on my mood. It's either chocolate or vanilla.
4. What room of the house do you blog the most in?
We have a big living room and my computer sits in a corner, by a window. So that's where I do my blogging.
5. What is your best physical feature?
I really don't know. Maybe my eyes.
I enjoy getting to know new bloggers and what better way than a meme where I can do just that.
For other participants please visit Java at
Never Growing Old